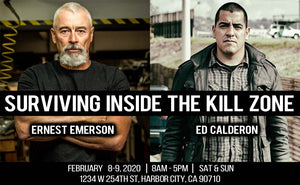 Surviving Inside The Kill Zone Class
Regular price $499.00 Sale
Two Days of Hands-on Training
with
ED CALDERON
and
ERNEST EMERSON
Los Angeles, California
February 8-9, 2020
Ed Calderon has survived a career in one of the most non permissive and dangerous environments that exists, Combating Organized Crime and Counter Narco Terrorism. His skill set needed to survive in this deadly profession was developed from first hand personal experience and he is now a valuable resource called upon to teach those skills to government and law enforcement agencies in order to enhance and insure both the effectiveness and the survival of officers, operators and agents in the most dangerous covert and non-permissive environments.
Ernest Emerson is a recognized expert in the field of personal combat and the physical and physiological effects of deadly force encounters. He is a tier one combatives instructor who has taught various aspects of his skill set to government agencies, elite military units, law enforcement and concerned citizens throughout the world for over 30 years.
Due to the nature of the subject matter covered in the course and techniques being taught, this is a limited enrollment class. There will be no signups at the door.
Location:
1234 W 254th St.
Harbor City, CA 90710
310-539-5633
Dates and Times:
February 8 and 9, 2020
Saturday: 0800 hrs – 1700 hrs
Sunday: 0800 hrs – 1700 hrs
Cost:
$499
Must be paid full in advance
Kit Needed:
Comfortable Clothing
Mouth Guard
Boxing Gloves – if you have them