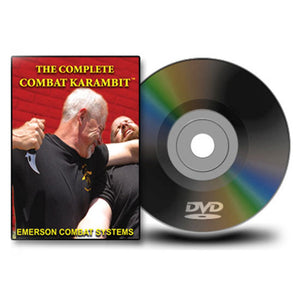 COMBAT KARAMBIT TRAINING DVD
Regular price $134.95 Sale
EMERSON COMPLETE COMBAT KARAMBIT DVD     VOLUME  1 – 4
In the Combat Karambit Training DVD, Ernest R. Emerson brings to you over 30 years of practical, hands-on experience in the use of real world, hand-to-hand combat and edged weapons skills. His expertise and consummate teaching abilities have created a tremendous demand for his courses and seminars on a global scale.
In this instructional series, The Combat Karambit, you can learn how to use what Mr. Emerson has called one of the best Personal Defense Weapons ever developed- The Combat Karambit. Emerson has taken an age old weapon and thrust it into the 21st century applying his methods of modern, state of the art, combat applications. Now you can learn from the instructor who teaches those considered the Tip of the Spear in America's ongoing war on Terror and are at this moment hunting down and neutralizing those who threaten terror against America.
The Combat Karambit Training DVD is approximately 318 minutes long.